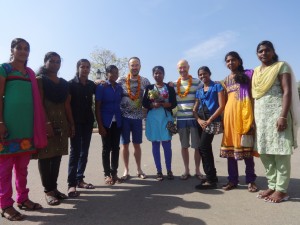 Here is another lovely blog post from my friend Nigel documenting his recent trip to India .. I've always wanted to go too and now I feel I must make it happen in the near future!! Thanks Nigel .. looks amazing!
When it was first suggested that this year's holiday should be a tour around Northern India, I'll be honest, I was a little dubious. Not that I didn't want to go there – I did – but it just wasn't top of my list. There were other places that sprang to mind first. But after a bit of gentle persuasion and the organising of a visa I was suddenly touching down in New Delhi ready to begin our adventure. An adventure that I would say has turned out to be one of the best holidays I have ever been on.
We decided to do what most people would call a 'taster-tour' of India I suppose. Nine days, three cities (Delhi, Agra and Jaipur) and more temples, forts and palaces than I ever knew existed. The trip was organised by Compass Tours India who supplied us with guides in each city and also with a driver to take us from one beautiful, majestic sight to the next. It was, for first time travellers to India, the perfect way to do it.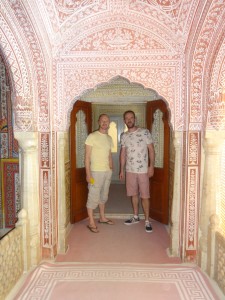 The thing that amazed me straight away about this incredible country was the assault it makes on your senses. From the moment you leave the airport your eyes seem to widen as you take in everything around you – the shapes of the buildings, the cows wandering happily across the highways and the sheer chaos of the traffic everywhere you look. Horns are blaring, but if you're imagining an M25-style road rage and five mile tailbacks you'd be wrong. Somehow the chaos seems to be handled with smiling faces, total respect for others on the road and with the odd camel, elephant or monkey thrown into the mix for good measure.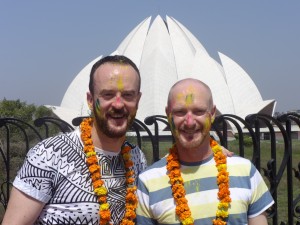 Delhi is an amazing place. We were there for Holi Festival (the festival of colour) which is an experience we'll never forget. Driving around the tiny back streets of old Delhi's bazaars in the ricketiest of rickshaws watching people of all ages celebrating the end of winter by covering each other in neon-bright technicolour powders was incredible. Under a burst of pink or a smudge of yellow, everywhere you looked was a sea of smiles (India – the friendliest place I've ever been – fact!) and people coaxing you to join in. Did we? Well, it would have been rude not to. And the revellers were more than happy to let us – waving, smiling and stopping us to ask for photos at every opportunity. We took in some of Delhi's main attractions whilst 'coloured-up' for Holi (including India Gate, the Lotus Temple and Humayun's Tomb) and we were stopped for photos and greeted fan-like at every one.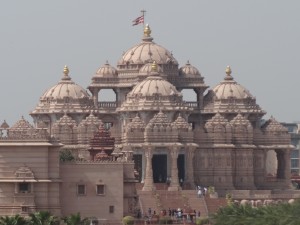 It would be very easy for me to write pages and pages on each and every attraction that we visited in Delhi as each of them are worthy of paragraphs of copy, but I won't, as there are guidebooks for that, but I do have a few recommendations for places that have to be seen. Yes, visit the famed Red Fort (and doubtless get dragged into the carpet and craft shops – it goes with the territory and don't be afraid to say no to buying 17 rugs and a four-foot statue of Genesh) but try to visit other places not always top of the tourist list. Safdarjung's Tomb is a garden tomb in a marble mausoleum, Lodhi Gardens are a magical escape from the madness of the streets with hidden temples and pieces of architecture at every turn, Qutub Minar is the world's tallest brick minaret and is as fascinating and mesmerising as it is tall. Add these alongside places like Raj Ghat, the cremation memorial of Mahatma Ghandi, and the magnificent Akshardham Temple, the largest Hindu temple complex in the world. One word – wow!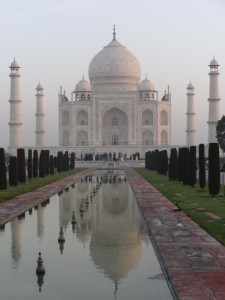 After Delhi we headed to Agra, home of India's finest attraction, The Taj Mahal. There are not enough words to describe how beautiful a building it is. It simply takes your breath away. We made two visits to it – firstly during the afternoon and then at sunrise the next day. The same building gives you two completely different experiences. It's a must see and a visit that I feel has made my life richer. One word of warning though – it's shut on a Friday so if you're planning your own itinerary, avoid the Taj on a Friday. Because it will definitely be avoiding you. Also, while in Agra try to visit a lesser-known monument , the tomb of Itimad ud Daulah, sometimes called the Baby Taj because of its resemblance to Agra's most famous monument. And if you fancy a fun night out head to the Kalakriti Centre to watch a theatre show called Mohabbat The Taj: The Saga Of Love. It's a visual delight of dancing and (melo)drama complete with the largest model of the Taj Mahal anywhere rising up from below the stage. There are headphones supplied with a variety of languages so you can understand the story. Mine didn't work but to be honest it didn't matter. I still loved every minute.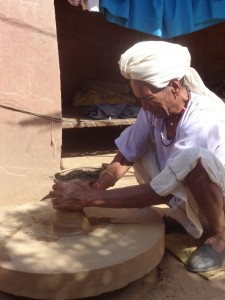 The third and final city on our tour was Jaipur. As we drove there, our driver asked us if we'd like to see some other things that weren't necessarily on our itinerary. We did. And boy are we pleased we did. Within a few short hours we found ourselves in the village of Abhaneri to visit the incredible Chand Baori stepwell (the place where villagers once descended to fetch water). It was built between 800 and 900 AD and dedicated to the Goddess Of Joy And Happiness (two words I will always associate with India). It is a colossal piece of architecture with steps descending for what seems like an eternity. While in Abhaneri we were also treated to an insight into a family business as we watched a local villager create wonderful pots on his potters' wheel. His skill was incredible.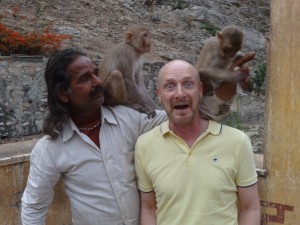 Another impromptu stop-off on the way to Jaipur was at Galta Temple, a now deserted village which is an ancient Hindu pilgrimage site located just outside Jaipur. It is also known as the 'Monkey Temple', and as soon as you walk though the gates you understand why. In-between the cows and the peacocks there are hundreds of monkeys ready to come and see what you have to offer. We were guided around by a marvellous man who seemed to know each and every monkey. Within minutes we were feeding them grapes, watching them swim, wearing them like backpacks and generally having them hang off every limb. I nearly broke my mouth from smiling – it was that incredible. Had our driver not suggested it we wouldn't have known it was there. Such an amazing place and another part of an amazing adventure.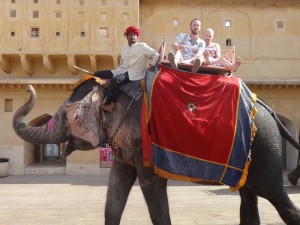 Jaipur itself is full of wonders – The Pink City as it is called delivers so much – the Amber Fort (an elephant ride up to the fort is a must. And to anyone who says the animals are mistreated, you are wrong, they work for two hours and then head back to their 'elephant village' to chill for the rest of the day! I have never seen a nation with such respect for its animals). The Palace Of Wind is breath-taking with its domes and tiers of structure. The Royal Palace, stopping to look at Jal Mahal, the quirkiness of the Jantar Mantar observatory…I could go on. One thing we would recommend if you have a few hours spare is a visit to the Raj Mandir Cinema to see a Bollywood extravaganza (it was showing a Bollywood horror when we went but fun nevertheless!). It cost pennies and was an incredible experience as people scream, shout, dance and talk to their families on the telephone right throughout the movie. Popping to my local Showcase will seem dull in comparison from now on.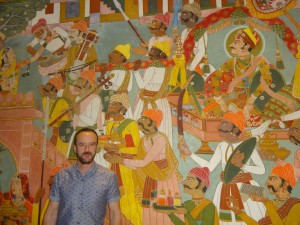 I must bring this blog to an end. It has been a joy to write, but then no surprise…India was a joy to visit. I haven't had time to mention Neemrana Fort as a must-see or the camel ride to the incredible Samode Palace (where The Far Pavilions was filmed don't you know). Both were beyond fabulous. But then the whole visit was – India was beyond my wildest dreams. Bright, colourful, happy, and friendly. An experience I will never forget and one I will be keen to try again in the very near future.