My g

uest blogger Nigel May has kindly allowed me to add this to Holiday Queen this month giving an alternative to the usual gambling stereo type that one usually associates with Las Vegas.

Read and enjoy!! Thanks Nigel!!
I have just returned from one of my favourite places on earth – Las Vegas! I must have been there about half a dozen times now but this trip was totally different to all of the others I have experienced before. Whereas in the past I have had a tendency to stick to the Strip with its over-the-top themed hotels and 'guide book Top 10 must-see attractions' this time around my visit was one of wandering away from the constant kerching of the slot machines and the smoky haziness of the gambling casinos to a Vegas that maybe sometimes gets overlooked and overshadowed by the neon. I was there as part of a work trip with a crafty friend and colleague (I work for a crafting TV channel for those who don't know) and it was her first time in Vegas. In the in-flight magazine on the way there we had spotted a rather arty and crafty shop called Artifact at a shopping area called Tivoli Village. It's fairly new and wasn't even in existence the last time I was sampling Vegas so we were keen to sample its delights. And it didn't disappoint.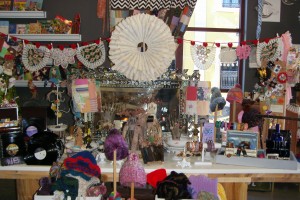 Having settled into our rooms at Caesar's Palace (we were there midweek and were given free upgrades to suites with Jacuzzis – always wise to ask at reception as you never know!) we headed off to Tivoli. It's a $50 dollar taxi ride from the Strip but well worth it. The complex itself is called Market LV and houses a variety of different shops, restaurants and juice bars. Our favourite shop by far was Artifact – full of upcycled, eco-friendly product (the complete antithesis of what brashy, trashy, flashy Vegas is known for really) and the wares housed there are all from local artists at prices ranging from the cheap and cheerful to considered purchase. It's an amazing place and well worth checking out if you have any kind of arty/crafty/eco feelings. Plus there's a fantastic restaurant called Poppy Den just around the corner which serves the most incredible variety of food. For more information about these venues head to www.artifactlv.com and www.vegaspoppyden.com And for more craftiness we must recommend a visit to the Viva Las Vegastamps craft shop back in the city itself just off the Strip. In a world where craft is becoming bigger and bigger anyone with even the vaguest flutter of craftiness can spend hours browsing the shelves. www.vivalasvegastamps.com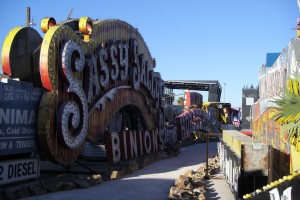 Another fabulous attraction we discovered was the Neon Museum. It's the 'boneyard' where a lot of Vegas'

s

iconic discarded neon signs are now left to live out their days. Over the years Vegas had changed from a gangster's paradise to a family destination thru to the hedonistic gambling experience that we can immerse ourselves in today. It's a real taste of Vegas-past as you wander around the site, just yards away from the huge neon signs, all in various states of dilapidation. Once famous landmarks of the city like the comical camels of The Sahara or the giant skull of Treasure Island lie lost and forlorn alongside their fellow neon friends now out of favour with the Vegas skyline. It's hugely interesting to stand alongside Sassy Sally's sign and learn that her famed name as the female symbol of LV was erased when she 'married' Vegas Vic (the thumbing cowboy) to highlight Vegas's appeal as a destination for matrimony, and replaced with Vegas Vicky to make poor Sally sound less sleazy. I would recommend the Neon Museum to anyone who wants a nostalgic slice of Vegas pie. www.neonmuseum.org
Our trip to Vegas was peppered with many of the stalwarts of Vegas entertainment – the Bellagio dancing fountains, the gondolas of The Venetian and a couple of shows (we took in the fantastically demonic Absinth at Caesar's Palace and the Cirque De Soleil Beatles extravaganza, Love, at The Mirage), plus the must-see Freemont Experience with its dazzling array of canopy bulbs forming one of the most spectacular light shows on earth. But one relatively new attraction that we were keen to experience was the gruesome Eli Roth's Goretorium near the Planet Hollywood hotel. Still relatively unknown (it opened for Hallowe'en last year) the experience is unlike anything else the Neon City has to offer. Fans of Eli Roth will know that he is the Hollywood director responsible for gore-fests like Hostel and Cabin Fever. The attraction, just like the man's films, is dark, demonic and devilishly enjoyable, with actors dressed as zombies chasing you around and trying to scare the living (or should that be undead?) daylights out of you before ending up in a blood-splattered bar serving up ghoulish drinks and playing back-to-back horror clips. The year-round haunt may not be everyone's cup of tea but we loved it and it provided yet another different layer to the Vegas experience. Visit www.goretorium.com for details. Just one word of warning – avoid it if you're at all squeamish!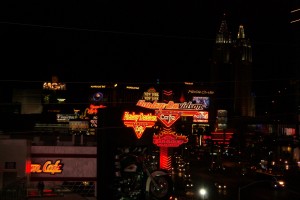 There is no place on Earth like Vegas. It's magical, mystifying and mayhem all in one glittery cluster. But if you are thinking that there is nothing more to Vegas than a home for gambling and whiling away the hours in a smoke-filled casino then let it be said that it has so much more as long you stray a little bit further than the fairy-tale turrets of The Excalibur or the dizzying heights of The Stratosphere. I love it and look forward to my next visit. And yes, of course we played the slot machines too – it would be rude not to. Did we win? Yep, an astounding $30….but at least we won! And it paid for a cab ride off-Strip.